How a desperate search for effective deodorant led to the founding of Three Gems Natural Skincare
For years, I tried (and failed) to find an effective antiperspirant that actually worked. Increasingly desperate, I decided to experiment with making my own. And I found a simple formula that worked wonders. Delighted, I started experimenting with shea butter, coconut oil and essential oils to make other skincare products. I started giving them away as gifts and the demand grew…
Three Gems Natural Skincare was born in 2017, and the feedback has been phenomenal, and I am delighted to be creating products that are helping people naturally.
Where the name 'Three Gems' comes from

The three gems are my three grandchildren. The sparkling blue diamond represents Jazmin, the greenstone pounamu signifies Jake and his Maori heritage, and the gorgeous red ruby is for Ruby. My three treasures, my Three Gems!
What sets Three Gems Natural Skincare apart from other skincare products
Most skincare products are water-based, which means water is the primary ingredient that you're paying for. Our products don't use water, or fillers, parabens, preservatives or any other kind of chemicals or nasties that you don't want on your skin. All you're getting is the pure goodness of organic shea butter, coconut oil and valuable plant-based oils added for their stimulating, nourishing and healing properties and scent.
Our stance on sustainability and the environment
One of the founding principles of Three Gems is to create natural skincare products that reduce the chemicals that end up in our bodies and the environment. Recyclable packaging is used wherever possible, and we are constantly looking for sustainable options that will maintain the integrity of the products and the values on which the business was built.
While some of our ingredients originate in other parts of the world, we purchase them from organically certified New Zealand suppliers who buy in large quantities, thereby keeping the carbon footprint as low as possible.
I am pleased to say that no animals have been harmed or used for testing in the production of our products. The Three Gems range has been thoroughly tested on friends, family, and colleagues since 2012.
We carefully sterilise and reuse all containers where possible for re-use.  Courier bags are either home-compostable or fully recyclable, and we use a recycled stone-based material for our labels.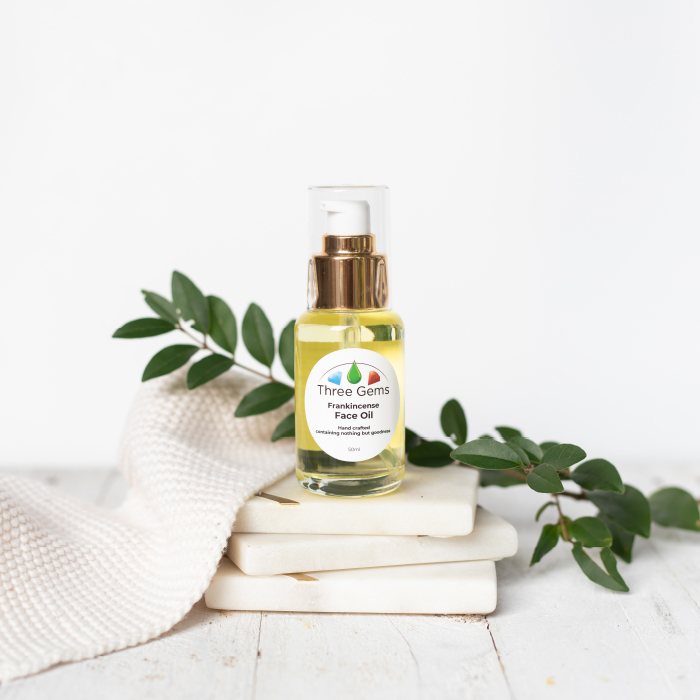 The ingredients we use
Pure and natural goodness, nothing else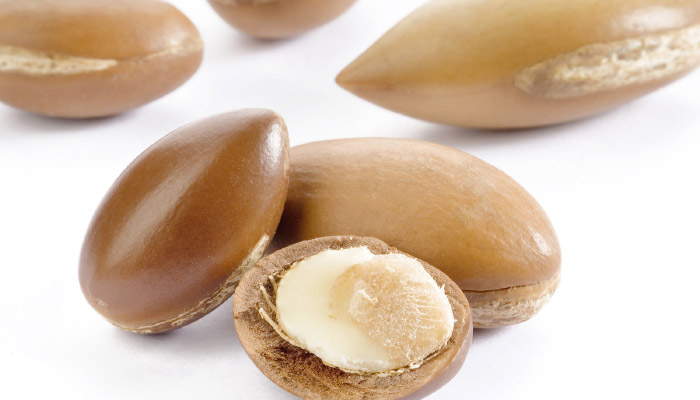 Argan Oil
Our cold-pressed Moroccan argan oil works wonders for your skin. Naturally rich in vitamin A, vitamin E, antioxidants, omega-6 and linoleic acid, it hydrates and softens your skin.
It is beneficial for anyone suffering from acne and impurities as it has been proven to reduce sebum levels in those with oily skin.
The saponins in argan oil help reactivate the skin's own ability to regenerate. It helps reduce the depth and severity of fine lines and wrinkles and reduces premature aging.
We use argan oil in our Frankincense Face Oil and our Neroli B Face Oil.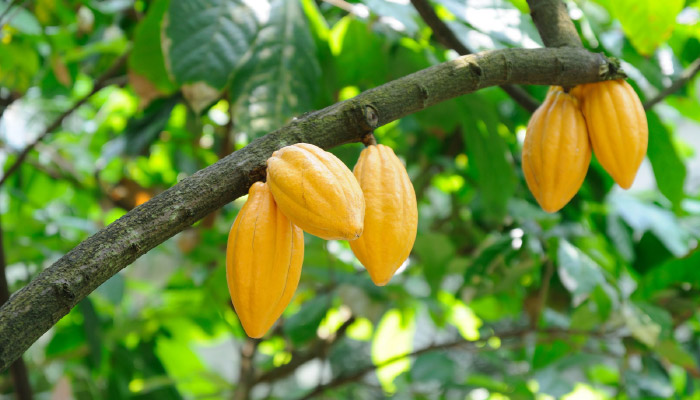 Cocoa Butter
Our cocoa butter is obtained from the fruits of cocoa trees in Peru. It is a naturally occurring butter and one of the most stable fats, giving it a long shelf life without the need for preservatives.
Its melting point is about the same as our own body temperature, so it literally melts into our skin.
Cocoa butter is a superb moisturiser and is full of antioxidants.
We use cocoa butter in our Natural Body Butter, Lip Balms, and Natural Deodorant.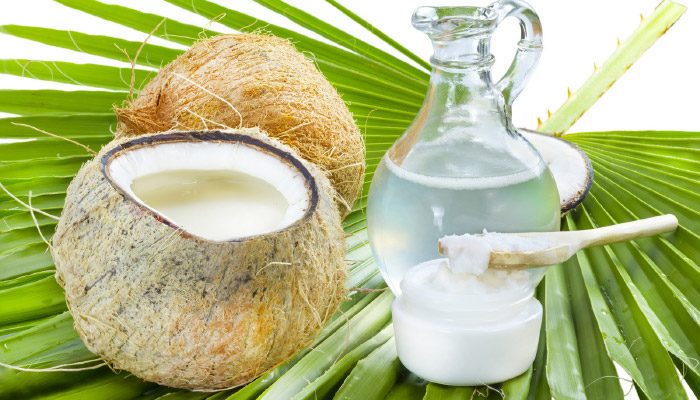 Coconut Oil
We use coconut oil from Sri Lanka. It is rich in short- and medium chain fatty acids and has excellent healing properties.
Coconut oil is antimicrobial and an effective grease cutter, which is a great combination for its use as a makeup remover.
It has antibacterial properties and a natural SPF of around 4, so it protects your skin from both the sun and potential pathogens, naturally.
We use coconut oil in our Makeup Remover and Cleanser, Lip Balm, and Natural Deodorant.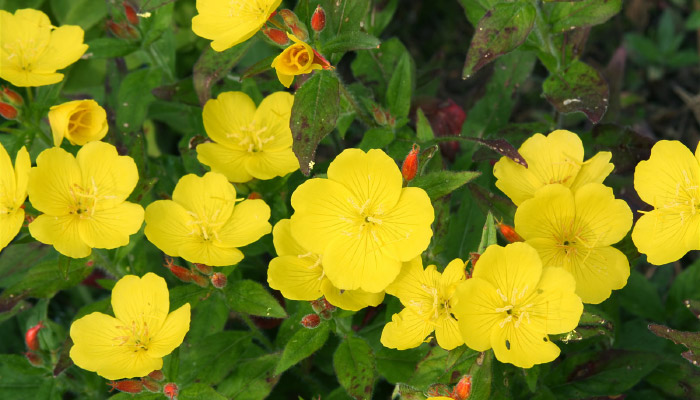 Evening Primrose Oil
We use the highest quality, cold-pressed evening primrose oil sourced from China for its profound benefits.
Evening primrose oil is rich in omega-6 fatty acids, which support healthy skin and nails. It also contains gamma-linoleic and linoleic acid as well as other nutrients that are essential for cell structure and improve skin elasticity.
The anti-inflammatory properties of evening primrose oil can help those suffering from psoriasis, eczema, acne and dry skin find relief.
We use evening primrose oil in our Frankincense Face Oil and Neroli B Face Oil.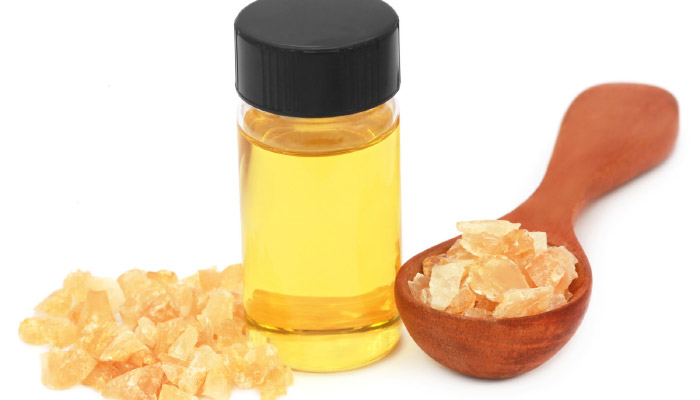 Frankincense Essential Oil
We use two types of the finest frankincense sourced from Somalia and Oman.
Frankincense has been used since ancient times and has long been revered for its elevating effects and profound benefits for the body and mind.
As it stimulates the healing and regeneration of the skin, it is a premium oil for mature skin to soothe and tone.  Frankincense is effective in controlling skin break-outs and is safe for use during pregnancy.
We use frankincense oil in our Frankincense Face Oil.
Petitgrain Essential Oil
We use premium Italian petitgrain essential oil. Petitgrain comes from the same bitter orange tree as Neroli but is extracted from the leaves rather than the blossom.
Petitgrain's anti-infectious, antiseptic, and naturally deodorising properties make it the perfect natural deodorant.
We use Petitgrain in our Natural Deodorant.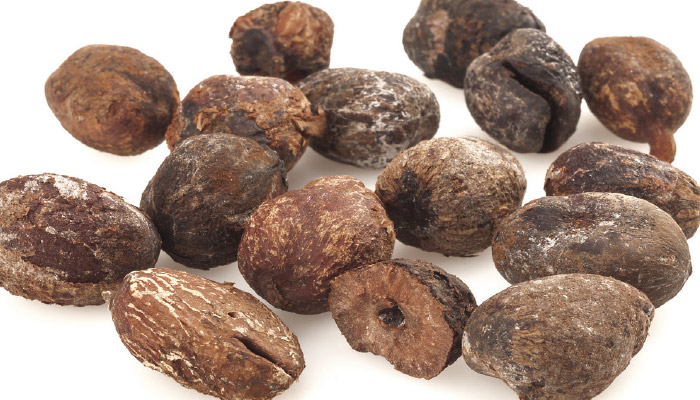 Shea Butter
Organic shea butter from Africa forms the base of our Body Butters.
Shea butter naturally contains vitamins A, E, and F as well as essential fatty acids, making it incredibly nourishing and moisturising while supporting collagen production in the skin.
Shea butter also has a natural SPF of around 6, thus offering light sun protection. It also reduces inflammation and is skin smoothing.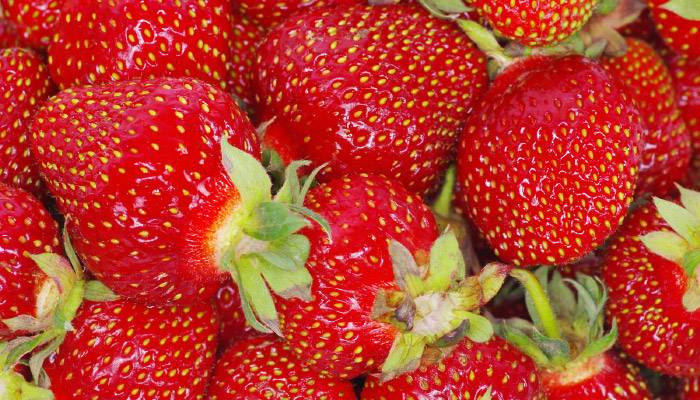 Strawberry Seed Oil
Made from millions of tiny strawberry seeds, our premium, cold-pressed strawberry seed oil is sourced from China.
Strawberry seed oil is rich in vitamin A and vitamin C as well as omega 3 and 6 fatty acids, which help restore moisture to the skin and form a natural barrier.
It is very effective on dry, chapped, and sensitive skin as it makes the skin supple and smooth.
Strawberry seed oil also contains ellagic acid, which helps protect the skin from UV damage.
We use strawberry seed oil in our Lip Balms and Natural Deodorant.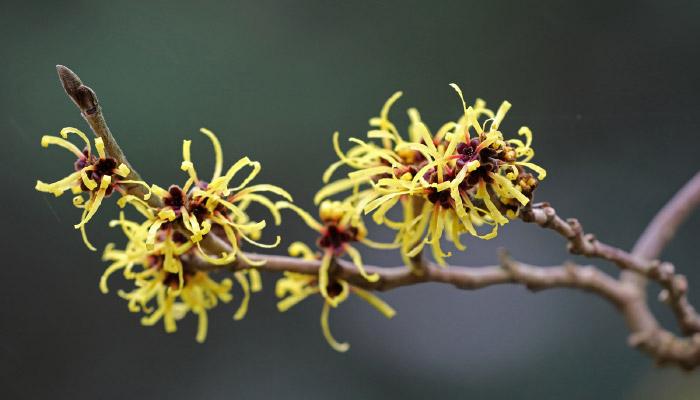 Witch Hazel
Witch hazel is the sole ingredient in our Witch Hazel Toner.
The witch hazel tree is native to North America and the astringent liquid distilled from its twigs and bark has a number of beneficial uses. A great source of beneficial antioxidants, it tones and shrinks the pores. It reduces dark circles and eye bags by easing inflammation.
Witch hazel can be used on all skin types, from sensitive to oily, and is particularly beneficial for blemish- or acne-prone skin.
It leaves the skin feeling toned and refreshed and is also great for taking the itch out of insect bites and stings.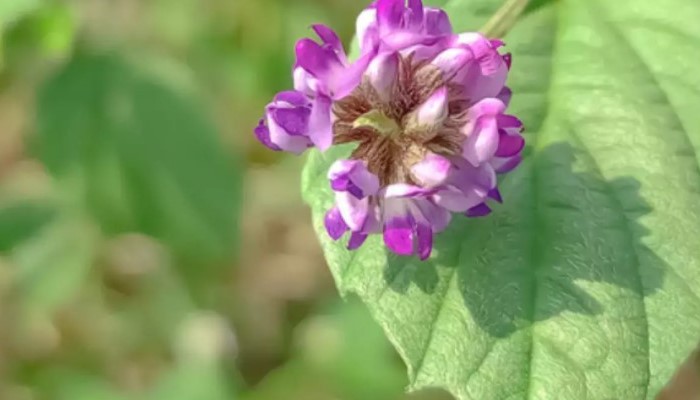 Bakuchiol
Bakuchiol is a plant-derived skincare ingredient, extracted from the plant known as bakuchi or babchi (psoralea corylifolia). Bakuchiol is a powerful antioxidant that can reduce skin discolorations caused by environmental exposure and is very soothing on the skin. Bakuchiol also has the effect of reducing fine lines and wrinkles.
Due to its similar actions, bakuchiol is often touted as a natural alternative to retinol and can be used in conjunction with products that contain retinol.
We use bakuchiol in our Neroli B Face Oil.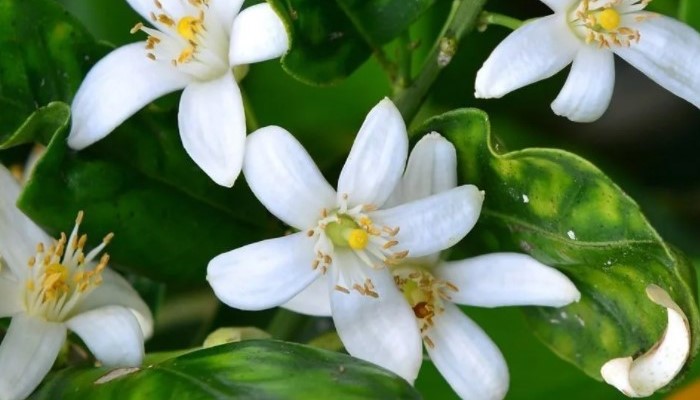 Neroli Essential Oil
We use a 100% pure neroli essential oil that originates from China.
Neroli is a lovely oil for all skin types and is particularly suited to sensitive, mature, dry, or irritated skin.  It is recommended for broken capillaries and redness. Neroli also helps stimulate skin regeneration and protects and softens scars and stretch marks.
We use neroli oil in our Neroli B Face Oil.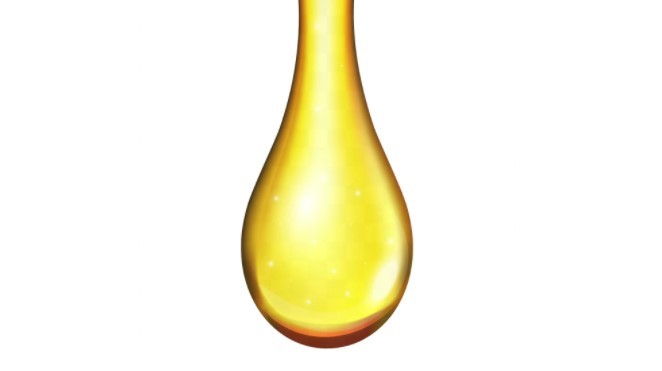 Vitamin E
Our choice of vitamin e is d-alpha-tocopherol. It is natural and is derived from soy bean oil.
We use vitamin e in most of our products for its antioxidant benefits to your skin, and also as an antioxidant to slow oxidation of the butters and oils used in the Three Gems products, ensuring a reasonable shelf-life.